[et_pb_section bb_built="1″ admin_label="section"][et_pb_row admin_label="row"][et_pb_column type="4_4″][et_pb_text admin_label="Text"]
Today running a Facebook Ad is not an easy task. You need patience and good analytical skills to run a successful Facebook ad campaign. The reason behind the rapid success of Facebook Ad campaign leaving behind traditional form of advertising is because how cost effective Facebook ad campaigns turns out to be and how easily you can optimize your ad campaigns by experimenting by running different types of ad with different interest and locations and then choosing one or two ad campaigns from all. By the end of the article you will get to know
How to increase your ads CTR (click through rate) – CTR is the number of clicks that your ad receives divided by the number of times your ad is shown: clicks ÷ impressions = CTR. For example, if you had 5 clicks and 1000 impressions, then your CTR would be 0.5%.
Lower your ad campaigns's CPC (cost per click) – Cost-per-click (CPC) bidding means that you pay for each click on your ads.
Reach more target audience.
Increase in sales.
Let's start with the basics of Facebook Ads. When you go to Ad Manager you will have to choose the type of Ads you want to try.
Awareness Tab
This tab has Brand Awareness and Reach. Both has quite a same purpose which is to reach maximum number of target audience and let them know about your brand. You cannot embed a CTA button in awareness ad, its sole purpose is to reach the people with a graphic or an article.
Consideration Tab
This tab has traffic, engagement, app installs, video views and lead generation. Traffic ad is to attract the target audience to like your Facebook page or send them to your website. Engagement tab is meant to increase the engagement among the users by posting marketing post which helps in increasing likes. This is suitable if you want to offer something free to users or host a give away or host a free event. Under this tab you can give an "offer claim" button to the users, clicking the tab the user gets the info about your event. App Installs ads helps you to increase the downloads of your app. You can even target the audience by choosing what type of OS you want to target. Video views as the name suggests you want to promote a video which you have uploaded on your page and you want to promote that and get some hits. It does not include YouTube views. The lead generation ads helps you to gather database of the target audience. You can get their personal details and remarket them by E-Mail or SMS or WhatsApp marketing.
Conversion Tab
Conversion tab is generally for E-Commerce pages. The conversion, product catalog sales and store visits are somehow the same. It helps you to get your users to your store both offline and online or provide them some sales coupon or help them by giving your store contact detials.
Next step you will see is create a new ad or use an existing post. The first option enables you to create a fresh new ad and the second option enables you to boost a post which you have already shared on Facebook.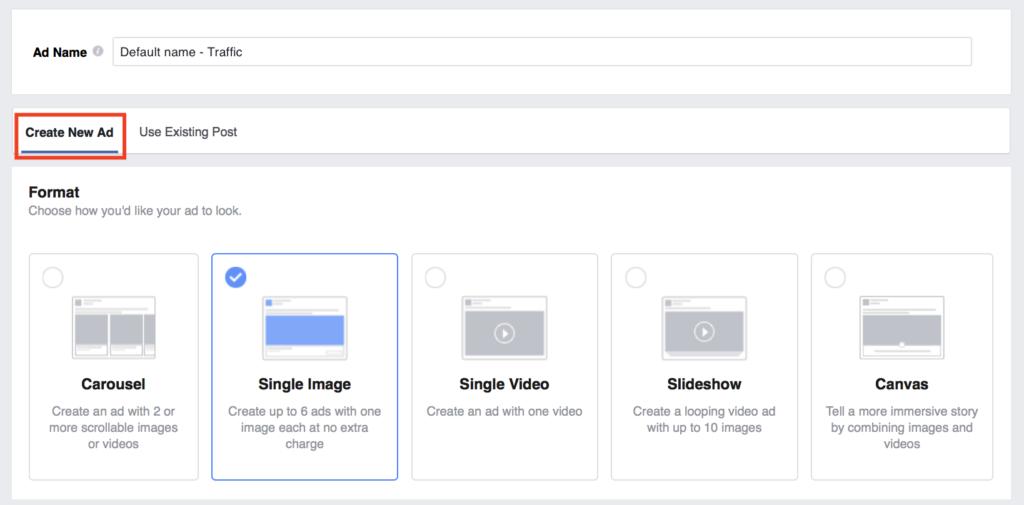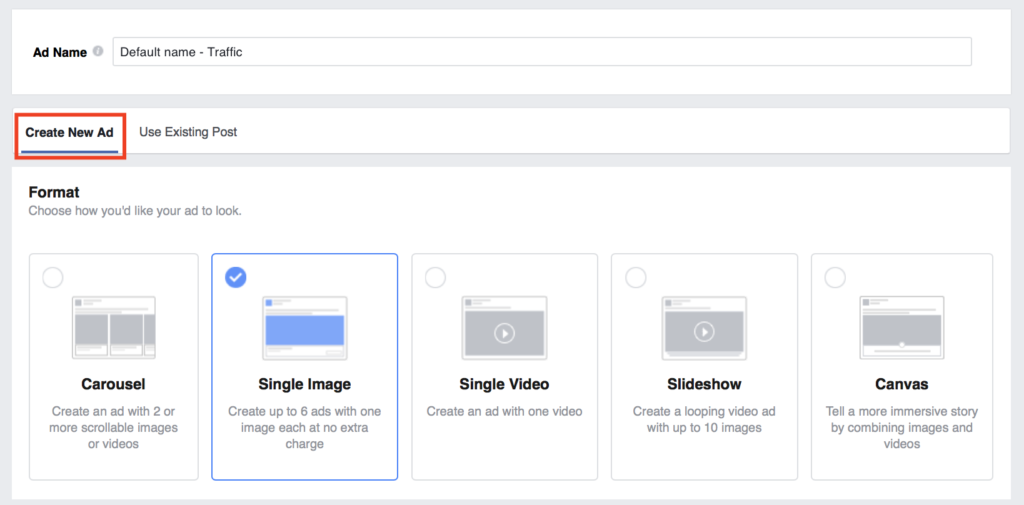 Tips To Optimize Facebook Ad Campaign:
Check at what time you are getting maximum output
Under this break down you can see at what time you are getting maximum output from your Facebook Ad campaign. This will help you to monetize your campaign more cost effectively. You can run the ads during those hours only to get more results and at the same time spend less money.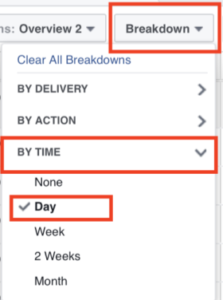 Target an Email List
Facebook allows you to create a custom advertising audience based on email lists. All you have to do is to create a .csv or .txt file that includes one email per row and excludes any other data. Once you have that file, click Audiences, then click Create Audience and select Custom Audience from the drop-down menu. Next, click on Customer List, as shown below. From here, it's easy to upload your list. Keep in mind that you can also upload a list of phone numbers and then target those people in Facebook ads. The process is basically the same as the one I just described. Also, you have the option to create a lookalike audience of your newly created customer list.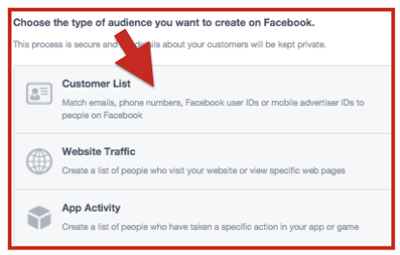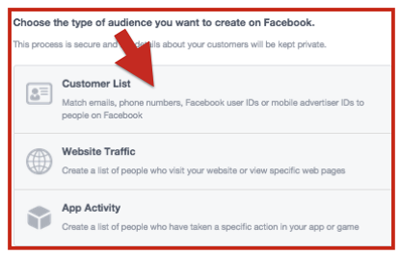 Use the Facebook Pixel to refine and optimize your ads
The Facebook Pixel is a small piece of code that, once added to your website, allows you to track how visitors interact with your site and how that relates to your Facebook ad campaigns. Its functions can be broadly broken down into measurement and optimization.
In terms of measurement, the Facebook Pixel allows you to track conversions and use Audience Insights to get aggregate demographic, location, and purchase behavior data for your website visitors as well as detailed information about how users interact with your site. It also lets you see if and how your visitors switch between devices, like a phone and desktop.
On the optimization side, the pixel ensures you show the right ads to the right people based on the actions they're most likely to take. You can retarget people who have already visited your website, and find new people who are similar to your best customers (using lookalike audiences).
The Times of India uses the Facebook Pixel to track readers and target them with different creative based on how engaged they already are with the newspaper's website and how likely they are to subscribe.
Some other tips are:
Always boost your ad from back end by going to Ad Manager instead of front end manual boost.
Always use hash tags in your caption.
If you are confused which interest to target, always go for something which is related to that particular niche. Like supplements for gym, AIEEE exam for B.Teh admission.
Every time you make substantial changes to your campaigns, consider waiting for at least 24-48 hours before drawing any conclusions.
Use an appropriate call to action button which will help you to get maximum output.
If you've been wondering how some advertisers have hundreds or thousands of likes under their Facebook campaigns, chances are they're using the same optimization hack.
At times your design is a problem. It might be appealing to you but it won't be to the target audience. Run campaigns with different graphic designs as well and optimize accordingly.
Choose your Ad placement carefully. Some might give results on Desktop newsfeed but some might give on Instagram.
Exclude 'converted' target audience from your ads. Why spend money on people who have already bought your goods? Consider you are selling an eBook. A person has bought it and even then he is seeing the ad, doesn't make sense right? You can create a Facebook Custom Audience of the converted and exclude them from your campaign's audience.

To exclude past converted from your Facebook audience:

Create a Custom Audience of people who have visited specific web pages (e.g. your thank you page or a blog article)
Use the EXCLUDE feature when setting up your ad campaign to stop targeting people who have already converted on this particular offer.
Some Tips for Niche Specific
For Restaurants:

Start with promoting your menu items. Don't choose the items which you like. That's one of the biggest mistakes which many Digital Marketer makes. Using personal preferences while designing an Ad campaign normally targets only the people with thinking just like you.
Sort the items in your menu according to how attractive do they look. A catchy graphic and a click bait title usually catches the audience and later also helps in engagement.
Now for choosing the target audience, always go for age between 13 to 28 only for restaurants.
Initially, the geographic locations should be within the city where the restaurant is located after which if you wish to do more branding, you could stretch the area.
Always run campaigns for a single post for at least 7 days, this will bring down your CPC to as low ad Rs.0.01

For Real Estate

Your graphic will play a key role here. Always use an older target audience and give a simple graphic. Don't make any catchy graphic because you will be targeting people of age more than 30 years old.
Focus on demographic rather than interest.

For Gyms

Run more offers and contest ads for engagement purposes.
Also provide health eBooks for free and use appropriate CTA button for the same.

For Schools & Colleges

Do a demographic based Ad in which you make different ads for different locations.
By this you will be running more than 30 ads at one point of time.
After 10-15 days see which area is giving you the maximum output and keep running that ad and pause the others.
[/et_pb_text][/et_pb_column][/et_pb_row][/et_pb_section]